Hardly anyone is born with a "perfect smile". Crooked teeth, crowded teeth, spaces between teeth and teeth alignment are some of the many problems that plaque people. Orthodontics is a specialty of dentistry that focuses on straightening the teeth and alignment of the bite.
While Dr. Harper does not perform orthodontic treatment in his Poquoson dental office, he will design a treatment plan and coordinate the treatment with an orthodontist.
What Are Invisible Braces?
Invisible braces are a type of orthodontic treatment that uses clear, removable aligners to reposition teeth. Invisalign® is the leading brand of invisible braces in the United States. Dr. Harper works with Hampton Roads area orthodontists and specialists who use the Invisalign® brand, as well as other trusted names for invisible braces.
Most patients prefer invisible braces to metal braces because they are more comfortable and fit better in their daily routine. Invisalign® aligners are made of a ultra thin, ultra clear, hard-soft plastic. Depending on your case, you will wear a series of aligners for approximately 2 weeks each. Most patients complete treatment in 6 – 12 months.
In addition to the esthetic and comfort advantages, invisible braces offers a number of significant clinical benefits including:
Improved gum and tooth health during treatment because of better oral hygiene
No metal allergies due to brackets and wires
More predictable treatment planning
Custom aligners tailored to fit your teeth precisely, for reduced irritation and fewer scratches
The Importance of Straightening Teeth
While crooked teeth can be embarrassing, they actually cause a much greater concern to the health of the mouth. When you have crooked teeth, brushing and flossing properly can be a challenge. Improper hygiene can lead to a build up of plaque and food debris, contributing to the formation of cavities and gum disease.
Most people seek orthodontic treatment in their teenage years, however, many adults need orthodontic treatment as part of restorative dentistry or a full mouth rehabilitation. Dr. Harper works with some of the leading orthodontists in the Hampton Roads area and will coordinate treatment.
Typical orthodontic problems treated with braces include:
Crowded Teeth
Spaces Between Teeth
Narrow Tooth Arches
Intrusive Teeth
Malocclusion (improper bite) may be related to TMJ discomfort
Related Clear Orthodontic Aligner Articles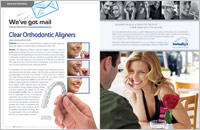 Clear Orthodontic Aligners
The orthodontic treatment using clear aligners consists of a series of aligners that you change about every two weeks over a course of treatment lasting six to eighteen months depending on how much movement is needed… Read Article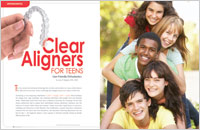 Clear Aligners for Teenagers
Teens who regard traditional braces as restrictive, confining, and obstructive to their lifestyles now have another choice for orthodontic treatment: clear aligners. This advanced dental technology, originally geared toward adults, has recently evolved to treat a greater variety of bite problems in younger people. These improved orthodontic appliances can help teens function normally during a difficult phase of life… Read Article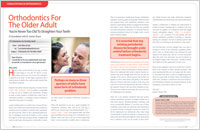 Orthodontics for the Older Adult
Healthy teeth can be moved at any age, so there's no such thing as "too old" for braces. In fact, nowadays about one out of every five orthodontic patients is an adult. Yet this figure represents only a small portion of adults who could actually benefit from orthodontic treatment… Read Article