Dental crowns can be made using a variety of materials. Hampton Roads area dentist, Dr. William Harper, generally recommends porcelain dental crowns because of their superior aesthetics and long term durability.
What is a Dental Crown?
Also known as a tooth cap or tooth crown, a dental crown is a permanent restoration that covers the entire tooth.
Dr. Harper can improve the healthy, beauty and function of teeth using dental crowns. Some of the ways a dental crown can be used include:
Restoration of tooth after root canal therapy
Repair of cracked or broken teeth
Improve appearance of misshaped or crooked tooth
Cover stained or discolored teeth
Close spaces between teeth
Lengthen teeth
Other cosmetic dentistry goals
The dental crown procedure generally takes place in two to three office visits. The first visit includes the diagnosis and treatment plan. Dr. Harper will perform a comprehensive evaluation, take x-rays and other diagnostic images. If the tooth has extensive decay or there is a risk of infection, a root-canal may be performed.
Creation:
Before the process of making the dental crown begins, Dr. Harper will prepare the tooth by removing old fillings or crowns and gently reshaping the tooth to make room for the new dental crown. If there is insufficient tooth structure, Dr. Harper may build up the tooth with a special filling to support the crown.After shaping the tooth, Dr. Harper will take impressions that will be sent a dental lab, where an expert ceramist will hand craft the dental crown. A temporary crown may be placed on your tooth to protect it while you are waiting for the permanent crown to arrive.
Placement:
In the final visit, usually two to three weeks later, Dr. Harper will remove the temporary tooth cap and place the permanent dental crown.
Dental Crown FAQs
What is the cost of a dental crown?
The cost of a dental crown will vary based on your specific condition and goals, as well as the material selected. In some cases, a dental crown may be covered by dental insurance. We will submit dental insurance claims on your behalf for reimbursement. If you do not have dental insurance or if your dental insurance carrier will not cover your treatment, we do offer a range of payment options including financing for qualified patients.
How long does a dental crown last?
Dr. Harper designs dental crowns to last a lifetime. Proper care and maintenance will ensure that your dental crown will perform at its best for many years.
Can You Replace Gold Crowns with Porcelain Crowns?
Yes, Dr. Harper can replace metal dental crowns, broken or worn dental crowns with new, porcelain dental crowns. This simple procedure can have a dramatic impact on the appearance of your smile.
Related Dental Crown Articles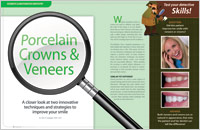 Porcelain Crowns & Veneers
A closer look at two innovative techniques and strategies to improve your smile. In many instances these two restorative techniques can produce nearly identical esthetic results, even though they are structurally different… Read Article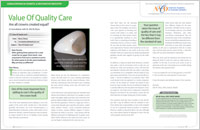 Value Of Quality Care
Are all crowns created equal? One of the most important factors adding to cost is the quality of the crown itself. Another fact is that dentists generally sub-contract out crown manufacturing to a dental laboratory technician, as they rarely make crowns themselves… Read Article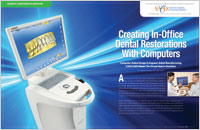 Creating In-Office Dental Restorations With Computers
Once upon a time, dentists – and patients – needed to wait weeks for a dental laboratory to make crowns and other dental restorations. Now, with an exciting digital technology known as Computer-Aided Design/Computer-Aided Manufacturing (CAD/CAM), some dentists are fabricating high-quality restorations themselves right in their own offices – in minutes! Read Article