First Light Dental of Coastal Virginia is home to Dr. William Harper, an experienced restorative and cosmetic dentist serving Poquoson, Newport News, Hampton Roads and surrounding Virginian communities. We offer a range of cosmetic treatments to enhance your smile. Whether you're looking for a subtle transformation or a dramatic change, Dr. Harper can help you achieve the results you want.
Having a beautiful smile is equally as important as having a healthy smile. Just as the health of the mouth is important to the overall health of the body, the appearance of the smile is important to a person's overall appearance and self-confidence.
What Can Cosmetic Dentistry Do For You?
When you smile, what do you see? Worn teeth, crooked teeth, or teeth that are stained? Regardless of the causes for cosmetic concerns, practically everyone can benefit from cosmetic dentistry treatment. Dr. Harper offers procedures that not only enhance the smile's beauty but also improve the function and health of the entire masticatory system.
Choosing the Right Cosmetic Dentist
One of the things that sets Dr. Harper apart from other cosmetic dentists in the Hampton Roads region is his commitment to advanced training and education. Over the last decade, Dr. Harper has logged over 1,000 hours in continuing education. For you, this means access to the latest techniques and advancements in modern dentistry.
Think of Dr. Harper as the mouth "architect." Starting with a precise diagnosis, he will create a strategic treatment plan and coordinate with specialists, lab technicians, and other support persons to achieve the best possible results for each individual case. Meet Dr. Harper.
Cosmetic Dentistry Services Hampton Roads VA
Affordable Cosmetic Dentistry
Dr. Harper offers a range of cosmetic dentistry services that are both highly effective and affordable. Cosmetic tooth bonding can be used to treat a number of concerns such as chipped teeth, tooth cavities, and spaces between teeth. When used properly, this procedure provides a very conservative option for creating natural shapes in teeth.
Most cosmetic dentistry procedures are not covered by dental insurance. We do offer a range of flexible payment options, including interest-free financing through Care Credit for qualified patients. Learn more.
Related Cosmetic Dentistry Articles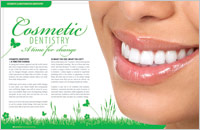 Cosmetic Dentistry – A Time For Change
Join us as we review the myriad of possibilities available to you for cosmetic dental change. But the biggest part is not just how your smile looks, it's how you feel when you show it… Read Article
The Impact of a Smile Makeover
Americans are catching on to the emotional and social importance of a healthy, beautiful smile, and they're seeking out ways to improve their smiles. Learn why and what a change could mean for you… Read Article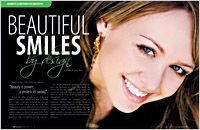 Beautiful Smiles by Design
The first in a series of articles dedicated to the "art and science" of designing a more appealing smile. One of the country's foremost leaders in cosmetic dentistry discusses how you and your dentist partner to create a great new look… Read Article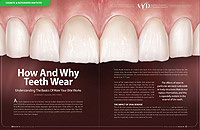 How And Why Teeth Wear
Are teeth supposed to last for a lifetime? And are humans designed to live for up to a hundred years? Given all the current improvements in the areas of medicine and health, both general and oral, people are not only living longer, but they are also keeping their teeth longer. This article will provide an overview of the "oral system" and one of its more common and important occurrences, tooth wear… Read Article