Dr. William Harper is an experienced cosmetic dentist and offers several types of dental veneers at First Light Dental of Coastal Virginia. Seeking to identify and treat any underlying dental problems that may affect dentistry, Dr. Harper will address both cosmetic concerns and your overall dental health before recommending the best option for you.
Are Dental Veneers Right For You?
The ideal candidate to receive dental veneers has a healthy tooth and gum structure. Dental veneers are an ideal treatment to improve the appearance of:
Gaps or spaces between the teeth
Uneven or crooked teeth
Broken, chipped or cracked teeth
Discolored or stained teeth
Types of Dental Veneers
A dental veneer covers the front and sides of teeth to close gaps, correct imperfections and improve the appearance of teeth. There are several types of dental veneers:
Porcelain Veneers – are thin, translucent shells of ceramic that are permanently bonded to teeth. Porcelain veneers are highly stain resistant and have similar light reflecting properties compared to natural teeth.
Lumineers – are a type of dental veneer. Though Dr. Harper does not offer the brand Lumineer, he is able to offer similar restorations, which like Lumineers require little or no tooth preparation.
Composite Resin Veneers – are made using a tooth colored, biocompatible material that is applied directly to the tooth and sculpted into form. This type of dental veneer requires little to no preparation and can be complete in a single visit.
Benefits of Porcelain Veneers
Natural tooth appearance
Gum tissue tolerates porcelain well
Stain resistant
Highly durable
Porcelain Veneer Procedure
To achieve a natural look, Dr. Harper conducts a comprehensive evaluation, taking into consideration your facial features and prepares a personalized plan that address your needs and desires. Thanks to dental imaging, you will have the opportunity to "see" your smile before the procedure is performed.
Applying porcelain veneers requires the artistry and precision of a skilled cosmetic dentist. Porcelain veneers are permanent. Since the veneers are boded to the front of your teeth, it is necessary to remove a thin layer of tooth enamel to create space in your mouth.
Porcelain Veneers FAQs
How much do porcelain veneers cost?
The cost of porcelain veneers is determined based on your specific condition and goals, as well as the materials selected and number of veneers to be placed. Porcelain veneers are typically not covered by dental insurance; Dr. Harper offers a range of payment options including financing for qualified patients.
How long do porcelain veneers last?
Dr. Harper designs porcelain veneers to last for many years. With proper care and maintenance, porcelain veneers can last a lifetime.
What is the difference between porcelain veneers and dental crowns?
A dental crown covers the entire tooth like a cap, compared to a porcelain veneer which covers only the front and sides of the tooth. Both types of treatment are used in cosmetic dentistry as well as restorative dentistry.
Related Porcelain Veneer Articles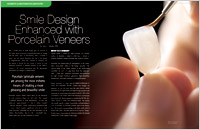 Smile Design Enhanced with Porcelain Veneers
In part two of the series on Smile Design, Dear Doctor takes an in-depth look at Porcelain Veneers, a superior yet minimally invasive technique for smile enhancement. We'll explain not only when they're appropriate, but also when they're not… Read Article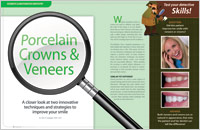 Porcelain Crowns & Veneers
A closer look at two innovative techniques and strategies to improve your smile. In many instances these two restorative techniques can produce nearly identical esthetic results, even though they are structurally different… Read Article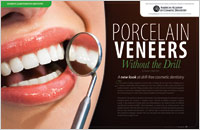 Porcelain Veneers – Without A Drill
No drilling — reality or ridiculous? A no-drill technique requires a second look, as new materials and concepts have created new esthetic possibilities. Reactions and opinions among dentists have ranged from absolute disbelief to moderate acceptance. This article gives hope and reasons for patients to get excited about this conservative drill-free cosmetic technique… Read Article