Replacing missing teeth is important for restoring dental health and quality of life. Patients who have lost teeth are at risk of developing more complex dental issues down the road as a result of subsequent bone loss and shifting of remaining teeth. In addition, many are faced with diminished speech capability and dietary restrictions.
First Light Dental of Coastal Virginia provides comprehensive restorative and cosmetic dentistry to patients in Poquoson, Newport News, Hampton Roads, and surrounding Virginia communities. Dr. William Harper is one of the most highly trained and well-qualified dentists in the Hampton Roads area for dental implant procedures. He provides coordinated treatment with specialists for the expert restoration of dental implants.
In addition to dentures and partials, Poquoson dentist Dr. William Harper offers patients the option of dental implants for the most lifelike replacement for missing teeth. Because dental implants replace the actual tooth root, they can support a prosthetic tooth that will look and function just like a natural tooth, allowing you to speak, chew and smile confidently.
Full-Service Implants in Hampton Roads
Missing one tooth?
Missing multiple teeth?
Missing a full arch of teeth?
dental implant supported dentures
our dental implant team
---
Dr. William Harper
Dr. William Harper has been working with implants for 17 years and has experience with many different types of implant systems. He uses dental implants to help patients replace missing single teeth, both front and back teeth. He also uses implants to replace multiple missing teeth, including implant-supported bridges, implant-assisted dentures, implant-supported dentures, and "All on 4", "All on Four", and "Teeth in a Day" implant solutions. His extensive background in smile design, anterior porcelain veneers, crowns, and occlusion (bite forces, and properly spreading out bite forces) allows him to reconstruct natural-looking smiles and chewing ability predictably. He often is called upon to help rescue or correct previous implant problems. His practice is very much a "problem solving" type of practice, and while he does spend some of his time on typical fillings and simple crowns, he spends more time coming up with solutions to help patients keep their functional and esthetic health for rest of their life. Dr. Harper would prefer to find solutions early rather than dealing with the problems created by "botched" treatments done haphazardly and without proper experience and training. Some of the problems that Dr. Harper has solved are shown below.
Dental implants are an exciting option for patients with missing teeth. Studies show that dental implants have a 35% higher success rate when compared to traditional fixed bridgework or dentures.
What Is A Dental Implant?
There are three components of a dental implant. First is the dental implant itself, which is a replacement tooth root, commonly made of titanium. Next is an abutment, which attaches to the implant and is used to secure the prosthetic tooth or teeth. Lastly is the dental implant restoration. For a single tooth, this is a dental crown. In the case of multiple missing teeth, the dentist may use a denture or partial denture.
Implant vs. Bridge vs. Denture
All three of these restorations replace missing teeth, however a dental implant is the only one that replaces the actual root structure of a tooth. This means that the prosthetic tooth (or teeth) is permanently fixed in the mouth and does not require any support from neighboring teeth or use of adhesives.
For denture patients, dental implants can minimize speech impediments often associated with loose or ill-fitting dentures. The dental implants will also allow you to eat more foods and chew much more efficiently so you can live your life without concern over what foods you can and cannot eat.
Dental Implant Procedure
Dr. Harper has extensive background in all aspects of dentistry, maintaining a focus on comprehensive treatment planning for complex cases, including dental implants. Think of Dr. Harper as the mouth "architect". He will create a strategic treatment plan and coordinate with specialists, lab technicians and other support persons to achieve the best possible results for each individual case.
Implantation – The placement of the dental implant is a simple, in office procedure performed under local anesthesia. The dental implant generally requires 3 – 6 months to heal. In some cases, the permanent dental crown can be place during this visit. Other times, a temporary crown will be placed during the healing period.
Implant Restoration – After the dental implant has integrated with the bone, it will be uncovered and Dr. Harper will attach the dental crown, dental bridge or denture. Dr. Harper typically uses tooth-colored ceramic material for dental implant restorations.
After Care – The dental implant will look and function the same as natural teeth. You will be able to brush and floss teeth normally. Routine visits to the dentist will ensure long term health and function of the dental implant.
Dental Implant FAQs
How much do dental implants cost?
The cost of dental implants will vary, depending on the number and location of implants, as well as your overall dental health. We will review all details of dental implant treatment including the cost of your procedure. To make the dental implant procedure affordable, Dr. Harper offers flexible payment options and interest free financing for qualified patients.
Are dental implants painful?
The dental implant procedure is not painful. You may experience some soreness immediately following the procedure, which will subside within a few days of treatment.
What are denture implants?
Denture implants, "all on four" and "teeth in a day" are all names for a procedure that replaces all of a person's missing teeth. Dr. Harper will plan the strategic placement of dental implants to support a denture, offering better retention, improved health and higher quality of life compared to traditional dentures.
Are there any alternatives to implants?
Yes, Dr. harper offers a variety of treatments for missing teeth including dental bridges and dentures. Meet with the dentist to find out which choice is best for you.
Related Dental Implant Articles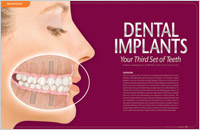 Dental Implants – Your Third Set of Teeth
A discovery fifty years ago paved the way for one of dentistry's most exciting, natural looking and successful tooth replacement systems. Learn how dental implants might just possibly change your life… Read Article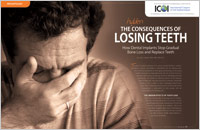 The Hidden Consequences of Losing Teeth
For those missing even one tooth, an unsightly gap is actually the least significant problem. What's of far greater concern is the bone loss that inevitably follows tooth loss. Dental implants fused to the jawbone can preserve bone, improve function and enhance psychological well-being. Learn how implants serve both as anchors to support replacement teeth, and preserve bone as one of the better preventive maintenance procedures in dentistry… Read Article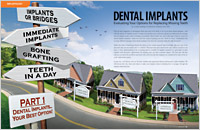 Dental Implants – Evaluating Your Options for Replacing Missing Teeth
As we guide you through the marketing hype you'll see that well planned implants most often require a team approach in assessing whether they're right for you. Not only are they a better treatment choice, they will last longer, possibly a lifetime, making them the right choice and the most cost effective option long term… Read Article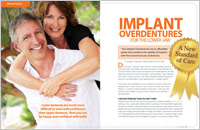 Implant Overdentures for the Lower Jaw
Implant overdentures represent a major change for the dental profession and the public. The lower jaw two-implant overdenture may be considered a more appropriate starting point over regular dentures… Read Article