Our in-office periodontist Dr. Jennifer Anderson can offer patients a compassionate approach to dental problems related to gum health. From gingivitis to periodontitis, Dr. Anderson has the training to evaluate and address your needs with periodontal treatments and procedures.
A Navy Veteran and participating periodontist with Delta Dental, Dr. Anderson treats each patient as an individual and takes the time to fully understand your concerns and the condition of your gums.  As a trained periodontist, Dr. Anderson offers the range of treatment options necessary to repair and restore the gums in support of long-term dental health or to prepare a healthy oral foundation for the replacement of missing teeth.
Why Treat Gum Disease?
Dr. Harper and Dr. Anderson will treat your oral health in a holistic and comprehensive manner, emphasizing the importance of healthy gums as a foundation for strong, healthy teeth. He has incorporated a wide range of dental technologies, including laser dentistry, into his Poquoson dentist office to enable he and his staff to spot developing problems with periodontal health in the early stages and offer accurate, effective treatment.
Treating gum disease in the early stage, known as gingivitis, can reduce the risk of permanent damage to the gums and the tooth structure: gum disease is a leading cause of tooth loss among adult patients.
Signs and symptoms of gum disease
Red or swollen gums
Receding gums
Loose or shifted teeth
Bleeding gums when brushing or flossing
Persistent bad breath
Changes in the fit of dentures
Sores in the mouth
Treatment Options
Gingivitis is an early stage of gum disease. When caught early, gingivitis is highly treatable and even reversible. Dr. Anderson will perform extensive cleaning and recommend brushing and flossing twice a day. Antibacterial mouth rinses and other aids may be prescribed to reduce harmful bacteria in the mouth. We will also schedule follow up cleanings more than the usual twice a year until the gingivitis is gone.
If your condition is more advanced, Dr. Harper or Dr. Anderson may perform more intensive cleaning procedures such as scaling and root planing. Other treatment may include laser dentistry.
Prophy-Jet
Dr. Anderson can deliver a more comfortable treatment for gingivitis and gum disease using Prophy-Jet technology. The Prophy-Jet sprays a high pressured solution of water and baking soda to the surface of teeth to blast away deposits such as plaque. This eliminates the need for scraping or drilling, resulting in a more pleasant experience and quicker recovery.
Diode Dental Laser
The diode laser is especially useful in periodontal procedures including the treatment of gum disease. A high-energy beam is used to "cut" away diseased tissue, instantly killing bacteria and reducing the amount of bleeding and swelling. Patients who undergo laser dentistry are more comfortable and have quicker healing.
Related Periodontal (Gum) Disease Articles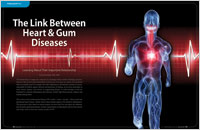 The Link Between Heart & Gum Diseases
Inflammation has emerged as a factor that is involved in the process of Cardiovascular Disease (CVD), which commonly results in heart attacks and strokes. While the precise role inflammation plays in causing chronic CVD remains an area of intense current investigation, much more is now known. The good news is that, based on current research, we know that if we can reduce the inflammation caused by periodontal disease, we can reduce the risk for heart attacks and strokes… Read Article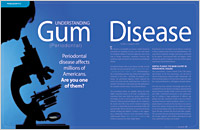 Understanding Gum (Periodontal) Disease
Have your gums ever bled when you brushed or flossed? This most commonly overlooked simple sign may be the start of silent (periodontal) disease leading to tooth loss. Learn what you can do to prevent this problem and keep your teeth for life… Read Article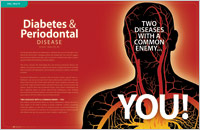 Diabetes & Periodontal Disease
Diabetes and periodontal disease are chronic inflammatory diseases that impact the health of millions of people. What you may not know is that diabetes and periodontal disease can adversely affect each other… Read Article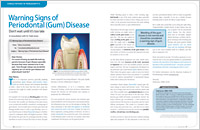 Warning Signs of Periodontal (Gum) Disease
This article provides the warning signs of periodontal (gum) disease. Don't wait until it's too late… Read Article