At some point, most patients will require a dental filling. A dentist may use a dental filling in a number of situations. You are likely familiar with the idea of a dental filling being used to treat cavities. But dental fillings may also be used to treat other conditions such as:
Small cracks or chips
Worn teeth, especially along the edges
Small spaces or gaps between teeth
Minor discoloration including staining or white spots
Tooth Colored Dental Fillings
There are several different types of dental fillings. In most cases, Dr. Harper will suggest a tooth colored dental filling, made either of composite resin or ceramic. Tooth colored fillings are an excellent alternative for long term durability and function.
Composite Resin Fillings
Composite resin fillings, also known as white fillings are a type of direct filling. The composite material is applied directly to the tooth and sculpted into form by the dentist. White fillings are best suited for minor issues including small cavities, minor discoloration or small chips.
A composite filling can be bonded to the tooth in a single visit and provides significant durability. A composite filling is not as long lasting as a metal or ceramic tooth filling, however, and may need to be touched-up after five or more years.
Porcelain Fillings (Inlays/Onlays)
Like composite resin fillings, porcelain fillings are virtually invisible once they are placed on the tooth. A porcelain fillings is an indirect filling. The dentist will take a mold of the tooth and plan the restoration that will be hand crafted by an expert ceramist in a dental laboratory.
Porcelain fillings can be categorized as an Inlay or an Onlay:
Inlays are a type of porcelain filing that lies within the cusps (contours) on the chewing surface of the tooth.
Onlays, also known as partial crowns, are more extensive, covering one or more cusps.
Related Fillings Articles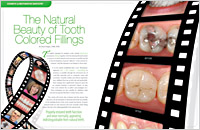 The Natural Beauty of Tooth Colored Fillings
The public's demand for aesthetic tooth colored (metal free) restorations (fillings) together with the dental profession's desire to preserve as much natural tooth structure as possible, has led to the development of special "adhesive" tooth colored restorations… Read Article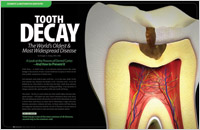 What is Tooth Decay? – And How to Prevent It!
Tooth Decay is an infection, and many people don't realize that it is preventable. This article is the first in a series about tooth decay, perhaps the number one reason children and adults lose teeth during their lifetime. Explore the causes of tooth decay, its prevention and the relationship to bacteria, sugars and acids… Read Article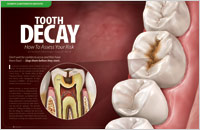 Tooth Decay – How To Assess Your Risk
Don't wait for cavities to occur and then have them fixed — stop them before they start. Modern dentistry is moving towards an approach to managing tooth decay that is evidence-based — on years of accumulated, systematic, and valid scientific research. This article discusses what you need to know to assess your risk and change the conditions that lead to decay… Read Article