Poquoson dentist Dr. William Harper uses dental bridges as a practical solution for missing teeth. A dental bridge is essentially a series of dental crowns and can be used to replace one or multiple missing teeth.
Types of Dental Bridges
Removable Dental Bridge
A removable dental bridge may be suitable as a short term solution to maintain tooth position while preparing for a fixed dental bridge or dental implant. Dr. Harper does not recommend removable dental bridges as a long term solution because they do not promote optimal health, esthetics or function.
Fixed Dental Bridge
Also called a partial denture, a fixed dental bridge is a prosthetic tooth that is connected to two dental crowns which cover the teeth on either side of the gap. A disadvantage of this type of restoration is the stress it places on the natural teeth. If neighboring teeth are in good health, this type of dental bridge could put unneeded stress on the teeth, leading to premature wear or cavity formation.
Dental Implant Supported Dental Bridges
A fixed dental bridge, supported by dental implants provides the most lifelike replacement for missing teeth. Dr. Harper has extensive training and experience with dental implants, making him one of the most qualified dentists in the Hampton Roads area for dental implant procedures.
Implant supported dental bridges have a 35% higher success rate compared to traditional bridgework and they eliminate the need to degrade adjacent teeth. Additionally, dental implants promote continued bone growth, preventing both bone shrinkage and gum recession associated with traditional bridges and dentures.
Related Bridgework Articles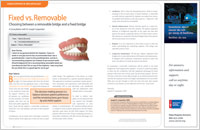 Fixed vs. Removable
For patients who have lost all their teeth, but have not lost significant bone, a fixed bridge may be the treatment of choice since the new bridge is not needed for facial and lip support. However, not all patients are candidates for this treatment… Read Article
Implants vs. Bridgework
Considerations to help you decide what is right for you. However, a discussion with your dentist is necessary to discuss your specific situation. Please see your dentist to review all the risks, benefits and alternatives to determine which option is best for you… Read Article