First Light Dental of Coastal Virginia is a family dentist office in Poquoson, VA. Dr. William Harper sees children and young adults to help them establish a solid foundation for long-term oral health. Our focus is on preventive care and the early detection of dental diseases.
How to Choose a Family Dentist
Choosing a dentist for your family is an important decision. You want to find a dentist who can provide you with high-quality preventive care as well as be there for dental emergencies and other dental problems. While a pediatric dentist only treats children and adolescents, a family dentist can grow with your children into adulthood.
A Child's First Visit to the Dentist
Starting regular visits to the dentist early will help teach your child healthy lifetime habits. Parents are encouraged to bring their children to the dentist early so they can become familiar with our dental office. Our staff is trained to make children feel as comfortable as possible.
Importance of Primary Teeth
It is very important to keep primary teeth (baby teeth) in place and healthy until they are lost naturally. Primary teeth are essential for maintaining good nutrition, allowing children to chew properly. Likewise, primary teeth are critical for proper speech development and help to promote good self-esteem.
How To Prevent Pediatric Tooth Decay
The American Academy of Pediatric Dentistry estimates that over 50% of first-graders and 80% of 17-year-olds have cavities. Parents can do many things to ensure the health of their children's teeth:
Brushing teeth twice a day with fluoride toothpaste (over age 2)
Flossing once a day
Limiting sugary drinks and beverages
Following recommended guidelines for nursing, bottle and sippy cup use
Dentistry for Teens and Young Adults
As children grow into teens and young adults, their concerns change. Teenagers are often conscious of their appearance, including that of their teeth. In addition to tooth cavities, wisdom teeth and orthodontics are important topics for adolescents. Dr. Harper works with some of the leading specialists in the Hampton Roads area to deliver the best care possible.
Related Children's Dentistry Articles
Dentistry and Oral Health for Children
As part of our special section on oral health topics affecting kids, Dear Doctor brings you this wide-ranging overview of milestones and transitions in your child's dental development. Learn how to protect your children from tooth decay, dental injuries, and unhealthy habits while getting them started on the road to a lifetime of oral health and general well-being… Read Article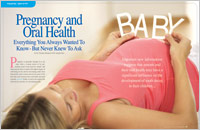 Pregnancy & Oral Health
Pregnancy is generally thought of as the time when a woman strives to be particularly aware of the need for "health". Many women though may not be aware of the link that exists between their oral health and their systemic (general) health, as well as the impact that many other factors can have on a developing child. Learn about how to care for yourself and your baby… Read Article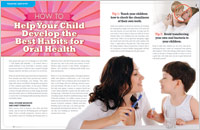 How to Help Your Child Develop the Best Habits for Oral Health
Proper oral health habits are easy to learn – and lead to behaviors that result in life-long dental health. And the time to begin is as soon as your child's first baby teeth appear. From tooth-brushing for your toddler to helping your teenager stay away from tobacco, Dear Doctor offers the most important tips for healthy habit formation through childhood and beyond… Read Article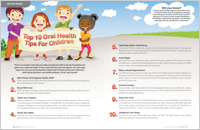 Top 10 Oral Health Tips For Children
There's no need to wait until your baby actually has teeth to lay the foundations for good oral or general health. In fact, good nutrition and oral hygiene can start right away. It is up to you to develop the routines that will help protect your child from tooth decay and other oral health problems. So let's get started… Read Article