The best dentistry is always preventive. Brushing and flossing are very important, but to prevent dental problems, you must also maintain routine professional dental cleanings and tooth examinations at your dentist's office. At First Light Dental of Coastal Virginia, we provide top-notch preventive care services for children and adults, including professional teeth cleaning and routine examinations.
"The cleaner the teeth, the less likely problems will develop. The best way to keep teeth healthy and looking great is to establish great habits at home and continue with a cleaning routine by a dental professional. Although a patient can be expected to remove plaque and keep teeth clean, it is inevitable for most people that they will develop hard calculus and tartar that can only be removed by a dental professional." – William Harper, DDS
Importance of Regular Dental Cleanings
Routine visits allow the dentist to look for early signs of problems such as gum disease, tooth decay or Temporomandibular Disorder (TMD). Early detection allows Dr. Harper to recommend more conservative treatment and less invasive procedures.
"As always my dental visit was the usual pleasant experience. But what strikes me time after time is the staff is very professional with an added personal touch that always makes you comfortable. Their knowledge of current dental information is always shared at your visit and it's a pleasure to know they provide excellent dental care. Lastly the news letters, and visit reminders via email and text are great." – R.T. Read More Testimonials
It is also important to maintain regular dental visits following any cosmetic or restorative dental procedures to make sure your dental work is healthy and long-lasting. Many patients who come to Dr. Harper for restorative and cosmetic dentistry choose to stay for their ongoing maintenance and preventive care.
A routine appointment may include:
Professional dental cleaning
Diagnostic x-rays
Dental caries (cavities) screening
Screening for oral cancer and gum disease
Occlusal analysis to examine temporomandibular joints (TMJ) and bite position
One-on-one meeting with dentist to discus concerns and goals
Digital imaging for analysis, diagnosis, and treatment planning
Prophy-Jet Air Polishing
The Prophy-Jet is an air polishing system that we use during certain dental cleaning treatments and other procedures. This devices uses a high power, powder slurry to remove stains, plaque and other soft debris from the surface of the tooth.
Related Oral Hygiene Articles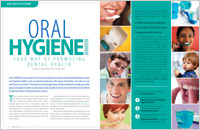 Oral Hygiene – Dental Health for Life
The best tools for maintaining your oral health and minimizing dental problems are a quality toothbrush, toothpaste, a roll of dental floss, approved mouthwash and good diet. Read Article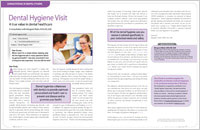 Dental Hygiene Visit
Each dental hygiene visit begins by reviewing your health history to identify issues that may necessitate special precautions during dental hygiene care to ensure your safety and to prevent medical emergencies… Read Article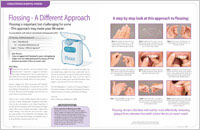 Flossing – A Different Approach
Flossing is important but challenging for some – this approach may make your life easier! Flossing however, remains the best method for most effectively removing plaque from between the teeth where the brush won't reach… Read Article